If you're thinking of camping in comfort, the fifth wheel motorhome may be the vehicle for you. We tell you everything you need to know about this extraordinary towable and where you can camp with it.
---
Why don't you follow us on social netwotks? We are on Instagram, Facebook, TikTok, Pinterest and YouTube.
---
What is a fifth wheel motorhome?
A type of caravan that has a fifth wheel hitch point instead of the conventional ball hitch. This is a U-shaped mechanism that attaches to the gooseneck hitch of the caravan.
But what is a "gooseneck coupling" and what are its advantages?
It is a hitch that allows a large turning radius and provides great stability. Unlike the ball hitch, the gooseneck hitch is much safer, as it does not sway in the wind and does not need to be greased to turn properly. And it is also easier to hitch!
---
What is so special about a fifth wheel motorhome?
These towable are characterised by a raised front space that creates a two-level floor plan. The length of this type of caravan varies from 6.5 m to 12 m long.
Without a doubt, the biggest plus point is their size. As they are so spacious, they can comfortably accommodate a family, as they can fit more beds. They also have built-in bathrooms and showers so you don't have to rely on the campsite services. You'll be amazed by their interior!
---
Which vehicle can tow this type of caravan?
A van or pick-up truck is required to tow a fifth wheel motorhome.
You need at least a 3/4 ton vehicle. A 1/2 ton vehicle could move your house on wheels, but it is not recommended, as they are less robust and cannot carry as heavy a load.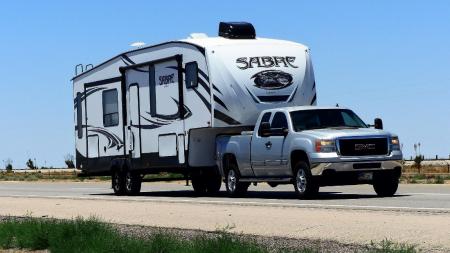 ---
Where to camp?
Now that you know all about fifth wheel motorhomes, you just need to know where you can camp. It's not easy to find campsites with such large pitches, but you're in luck today! 😉
At Alannia Resorts we have pitches up to 180 m2, equipped with drinking water, drainage, electrical connection (220 V – 16 AMP) and TV connection, perfect for camping your fifth wheel motorhome!
---
Camping Holidays – Alannia Resorts
The last step to live this experience is to make a reservation. The adventure on wheels begins! ☀️