Getting away with the family in a caravan to disconnect from routine and enjoy nature is always a good plan. But, on many occasions, travelling is not as cheap as we would like it to be. Here are some tips on how to save money on the road. Put the brakes on, take note and let's roll!
---
Why don't follow us on social media? We are on Instagram, Facebook, TikTok, Pinterest and YouTube.
---
---
1. Drive efficiently and effectively
Efficient driving in the caravan can save up to 20% fuel. To achieve this, there are a few little tricks that will pay off in the long run:
Route planning. Once you have chosen the destination where you are going to travel with your family or friends, you should study all the roads leading to it. This way, you can find out which roads are in the best condition, the fastest or the ones that do not have tolls. But how do you get all this information? The answer is simple: through travel guides or apps. In addition, when drawing your itinerary, you should also plan the time when you will start your journey, bearing in mind that it is always better to travel early or late in the day in summer and in the middle of the day in winter to avoid the use of air conditioning.
Constant speed, without braking or accelerating, so as not to rev the engine. In this regard, it is advisable to use cruise control or use high gears, using low gears only when necessary.
Engine off when you find yourself in traffic jams where you think you are going to be stopped for a long time. Otherwise, a lot of fuel will be wasted without hardly moving the vehicle. Newer cars have the Start Stop system, which is designed to reduce fuel consumption.
---
2. Save on fuel, water and electricity
The theory is very easy, and we assure you that the practice is easy too! Before you set off, you can check which low-cost petrol stations are in your way to find out where you can fill up cheaply.
What's more, many of the service stations offer loyalty cards which, based on a points programme, allow you to accumulate discounts, money or gifts with each fill-up. It's a very easy way to save!
What about water? As a general rule, it's free if you fill up with fuel, so it's worth taking advantage of every stop at a petrol station to fill up your car with water. Otherwise, you run the risk of running out of water and having to stop at the next station to refill. In that case, if you don't refuel, you will have to pay for water.
As for electricity, a good way to save electricity is to install solar panels on the caravan.
---
3. Control food
Eating out or preparing your own meals? If your motorhome has a fridge and cooker, it's best to cook for yourself and avoid going out to bars or restaurants on a regular basis.
Want to save even more? You can prepare your food at home and transport it in lunch boxes. This way, you only need to heat the food in the microwave, without having to use gas for cooking.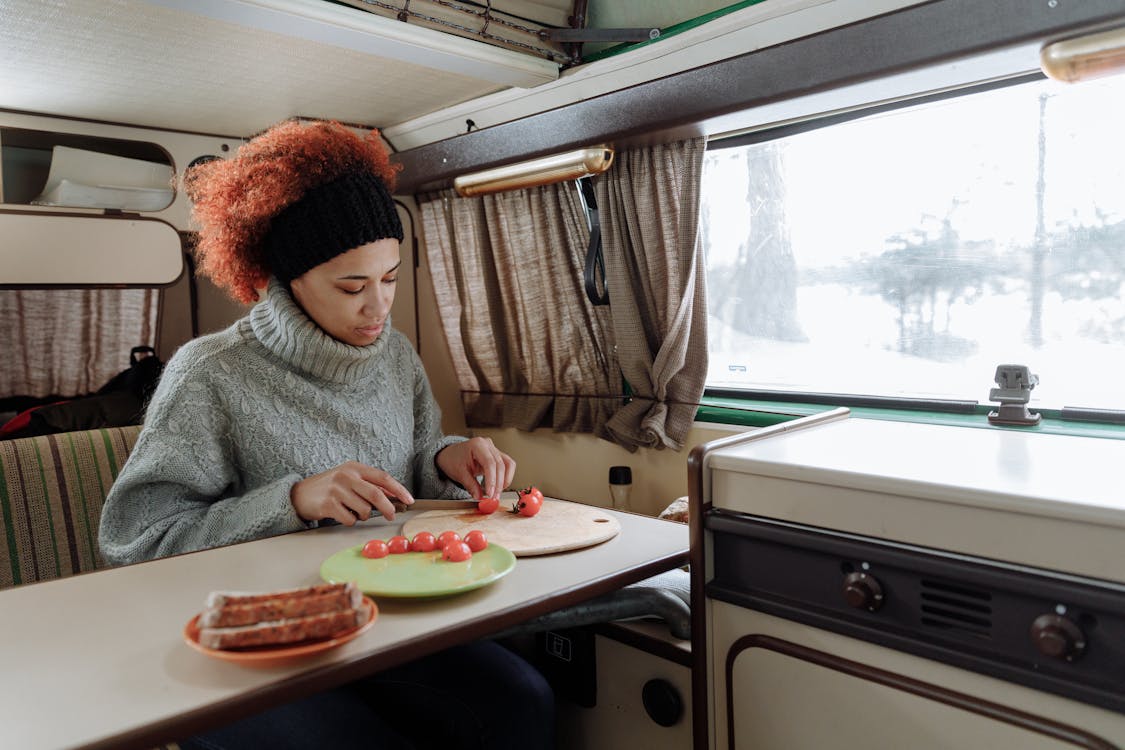 ---
4. Check the vehicle before departure
Don't forget to have your motorhome checked before travelling! The battery, filters, tyre pressure, exhaust system… Everything must be in perfect condition to avoid any surprises on the road. Finding a fault in time will always be much cheaper.
---
5. Stay overnight at a campsite
When you travel in a caravan, you need to stop and rest. As you can't park just anywhere, it is advisable to rent a pitch at a campsite to enjoy all the services that the resort has to offer.
You should also bear in mind that the best way to save money with a caravan is to spend more than one night in these sites, because the cost is lower and the campsite is the starting point for excursions in nature, which can be done on foot or by bike.
---
Camping Holidays | Alannia Resorts
At Alannia Resorts we have pitches up to 180 m2 and 100% equipped 🌴 Let the adventure on wheels begin!